The Reel Review
This HBO original documentary follows the life of 1950s and 60s film legend Rock Hudson, and how his closeted gay private life conflicted with his macho heteronormative public image until he became the first major public figure to die of AIDS in 1985 at the age of 59. The film is an adaptation of Mark Griffin's 1986 biography, All That Heaven Allows.
Featuring a treasure trove of archival footage, photos and interviews with friends, colleagues and former lovers, the film portrays Hudson as a gentle, kindhearted man who happily hid his homosexuality at a time when being openly gay in Hollywood was career suicide. While touching on his notable film and television success, much of the film's focus is on Hudson's private life – much of it quite colorful and even salacious. The only real criticism of the film is director Stephen Kijak's decision to splice scenes from Hudson's films into the narrative to cheekily illustrate the many gay double entendres and hints about Hudson's true sexuality throughout his career. While cleverly done, the subtext ultimately cheapens the documentary.
Interviews and archival photos from Hudson's former partner Lee Garlington, who Hudson was with from 1962 to 1965, are particularly poignant and heartbreaking – illustrating the impossibility of LGBTQ+ individuals to live openly in that era. Heartfelt comments from Linda Evans (regarding that fateful kiss with Hudson for the popular series Dynasty) and now departed friends Elizabeth Taylor and Doris Day illustrate the crucial importance of gay allies. Despite the sadness, the documentary does manage to show us that Hudson was able to eek out happiness while living in a world that ultimately was very hostile territory for him.
REEL FACTS
• A few days after Hudson died, Congress set aside $221 million for efforts to develop treatments and a cure for AIDS.
• A destitute and unemployed Henry Willson died of cirrhosis of the liver in 1978 at the Motion Picture & Television Country House and Hospital at age 67, four years after moving there.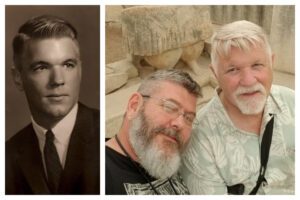 • Lee Garlington says he discovered only after Hudson's death from a biography that Hudson had considered him his one true love. The former Atlanta resident currently lives in Queenstown, New Zealand with his husband Paul, whom he married in 2014. They have been together for more than 35 years.